Impact Thinking
Developed by the International Arts + Mind Lab at Johns Hopkins University, Impact Thinking is a translational research approach to enhance human potential in health, wellbeing and learning through the arts.
For 20 years, the neuroaesthetics field has studied the neurobiology of the arts and its specific impact on brain development and behavior. While there remains much to discover, we are beginning to learn more about how our brains process aesthetic experiences and the basic mechanisms that underlie these behaviors, paving the way for better use of aesthetics in health, wellbeing and learning.
Still, the neuroaesthetics field is diverse and diffuse. Drawing from disciplines as varied as neuroscience, cognitive science, psychology, psychiatry, public health, anthropology, humanities, architecture, music and education, it is perhaps unsurprising that neuroaesthetics research has yet to find its common core.
While there is much compelling research to point to, a growing body of disconnected studies has left few high-quality data sets, standardized measures or implementation protocols from which to build. Small sample sizes and a reliance on observational data have limited researchers' ability to make claims about the effectiveness of arts-based interventions or influence evidence-based practice broadly. A separation of research and practice keeps many potentially life-changing findings firmly in the academic realm and out of reach of the clinicians, practitioners and caretakers eager to apply them.
To make truly groundbreaking discoveries that translate into changes in policy and practice, researchers and practitioners across diverse disciplines need a common process for discovering, evaluating, refining, replicating and scaling successful neuroaesthetics interventions. Beyond a theoretical frame, this work needs an organizing mechanism that facilitates collaboration across disciplines and organizes key data sets, measures, findings and experts for the field
One of IAM Lab's first major contributions is Impact Thinking, a consensus framework that applies rigorous brain science research methods to arts, architecture and music interventions by engaging a broad and multidisciplinary team. Beginning with a problem identification workshop and collaborative discovery process and concluding with dissemination and scaling, Impact Thinking is designed to build open-source capacity and expertise and a research-to-practice pipeline for arts + mind research focused on impact. Impact Thinking was developed through collaboration with an interdisciplinary team of nearly three dozen scientists and practitioners.
Impact Thinking:
Creates a common language and translational framework for multidisciplinary work
Can be used to improve or evaluate existing programs / interventions as well as build and test new programs and interventions
Engages a broad, multidisciplinary team
Is designed to get research to practice faster and with more fidelity
Includes a strong focus on communication and dissemination throughout the research project
What makes Impact Thinking different and essential?
Impact Thinking makes the translational scientific process inclusive, relevant and actionable. It moves beyond studies that begin and end in a lab to solve real-world, urgent problems and pave a path for broad implementation. For example: How can playing music ease the symptoms of Parkinson's disease? How can architecture and design reduce chronic stress in the workplace?
Impact Thinking is based on the fundamental values of collaboration, transparency and follow through and the belief that applied neuroaesthetics can change the world. Impact Thinking projects are initiated by an Impact Team of a brain scientist and a practitioner in an arts discipline. Each project is facilitated by a project coordinator and supported by advisors, dissemination experts and community stakeholders.
Impact Thinking:
Begins with an open and inclusive problem identification process, engaging a broad, interdisciplinary team in collaborative discovery that transcends academic literature
Pairs scientists and practitioners to conduct evaluations together
Is focused on impact in health, wellbeing and learning
Leads to dissemination beyond academic publishing–targeted to practitioners to spread and scale best practices
Builds a base of case studies, research and capacity to grow the field
Impact Thinking Framework
Step 1: Problem Identification
Problem identification brings together a representative group of stakeholders engaged in a given topic to workshop key issues in a field, project or program. Ideally, this group includes representatives of all potential stakeholders in the issue, which may include researchers, clinicians, practitioners and community members, as well as representatives from ancillary fields.
Questions may include:
Who is the target population? Who are the potential audiences?
What are their needs/problems?
What's our audacious vision and goal?
What are we already measuring? What do we know? What could we measure?
What are our potential research questions, and what would that research look like?
Who else needs to weigh in?
What's our budget? What are our primary cost drivers for research?
What is the problem we should solve?
Step 2: Collaborative Discovery
Phase two of Impact Thinking is a collaborative discovery process, defined by a widening purview to examine the identified problem from multiple angles and disciplinary perspectives. It includes traditional literature review, non-traditional practice scans, interviews with subject matter experts and documentation of potential outcome measures (behavioral and biological) based on indicators of the problem. Collaborative discovery values learning from both traditional academic sources and practical and applied sources. Most importantly, collaborative discovery reaches beyond the initial group of stakeholders and fields most closely related to the issue to engage a multidisciplinary team of advisers and dissemination experts. This phase concludes with a Discovery Report of findings and recommendations.
Step 3: Hypothesis Development
Based on the Discovery report, the Impact Team develops and tests the face validity of a number of hypothesized solutions, considering impacts at the individual, organizational, field and even societal levels. The hypothesized solution must be replicable and/or scalable with implications for a broad population.
Step 4: Research Design
The Impact Team reviews methodologies and assessments used in previous neuroaesthetics research with a goal of extending previous research or generating comparable data. Then, the team designs a truly collaborative research design with involvement from both brain scientists and practitioners. This may include occupational therapists, teachers, architects, program leaders, etc., as relevant.
Step 5: Research Implementation
The Impact Thinking model brings a variety of supports to the Impact Team during research implementation. The advisory team act as independent reviewers, which the project coordinator catalogs data in a standard format. The dissemination team observes and documents the research implementation to inform mid-course communications and lessons learned about the work for research and practice audiences. Throughout the research implementation, Impact Team members document their experiences, struggles and reflections to generate lessons learned for future teams.
Step 6: Analysis
Once the intervention and data collection are complete, the Impact Team conducts an initial analysis of data and shares findings with the advisory team. Depending on the findings, the Impact Team may decide that more data collection is necessary or move on to reporting and recommendations.
Step 7: Refine, Retest, Recommend
If initial analysis warrants, step seven includes refining and retesting the solution to increase understanding. Once complete, the Impact Team writes a report, drawing from its Discovery Report and Impact Thinking workbook to detail the process, methods, findings and recommendations for practitioners, researchers and policymakers. A stakeholder team is brought in to review and provide feedback.
Step 8: Dissemination and Scaling
As a research-to-practice approach, Impact Thinking includes a multi-faceted dissemination and scaling effort. Efforts must go beyond academic journals to practitioner and policymaker-focused media, events and networks, as informed by the advisory and dissemination teams. If the intervention is deemed successful, the Impact Team will assess and recommend opportunities for scaling the solution, which may include training/capacity building, replication and expansion.
Step 9: Evaluation
Once an intervention is up and running, the Impact Team will consider ways to evaluate efficacy over time, developing a standardized set of measures that capture impact based upon the problem or issue identified in Step 1. The Impact Team will also build processes and instruments to enable ongoing evaluation.
Impacting Thinking Projects
CultureRx Social Prescription Pilot
This project evaluates Mass Cultural Council's CultureRx Social Prescription program, which is the first "arts on prescription" program offered in the United States. CultureRx allows healthcare providers to prescribe arts and cultural experiences to help patients or clients with their health needs. In partnership with Mass Cultural Council, IAM Lab has documented methods, key takeaways and recommendations for program development at CultureRx as well as implications for social prescription pilots in other regions of the U.S. In addition to the report recently published by Mass Cultural Council, IAM Lab plans to publish more extensive findings in a peer-reviewed journal later in 2022.
Evaluation Lead: Tasha Golden, Ph.D., Johns Hopkins University
---
Pareidolia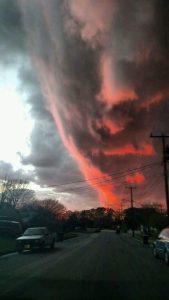 In partnership with researchers at Johns Hopkins and Dartmouth Universities, this project will synthesize the current scientific understanding of the common but understudied phenomenon known as pareidolia. Pareidolia is the tendency for the human mind to perceive something as significant or meaningful in instances when what is seen or heard is vague or ambiguous. IAM Lab will convene experts in pareidolia through stakeholder gatherings and the formation of a global advisory board. These convenings, along with a review of research literature, will evaluate the existing knowledge base and identify opportunities for future lines of inquiry, including the use of pareidolia as a window into the mind's inner workings and as a potential diagnostic tool for different disorders of the brain.
Hypothesis: Pareidolia, the phenomenon of perceiving meaning in the ambiguous, can teach us about how the brain processes sensory information and may be used to diagnose patients with neurological conditions.
Project Director: Principal Investigator Nathan Heller, PhD Candidate, Dartmouth University
Supporting Team Members: Tasha Golden, Ph.D., Alexander Pantelyat, M.D., Vidya Kamath, Ph.D. and Alyssa Tiedemann of John Hopkins University
---
Art + Empathy and Justice
This project will bring together an international, interdisciplinary team of scholars and practitioners to investigate the effects of art on empathy and justice with a focus on connecting across geographical, religious and political differences. Working with philosophers and theologians, as well as psychologists and neuroscientists, researchers will explore how the arts—and music and narrative in particular—affect understandings of love and justice. As an experimental proof of concept, two concerts will be held—one in Istanbul and one in Israel—to test how musical narratives can induce empathy among attendees of varied backgrounds.
Hypothesis: The arts can increase people's capacity to feel empathy towards others outside their social and cultural groups.
Project Director: Principal Investigator Kelly James Clark, Ph.D., Ibn Haldun University
Co-Principal Investigators: Tasha Golden, Ph.D. of Johns Hopkins University and Onurcan Yilmaz, Ph.D. of Kadir Has University
---
PhD
Guitar PD
In partnership with the Johns Hopkins Center for Music and Medicine, this project brought together neurologists and musicians for a unique series of guitar lessons specifically designed for people with Parkinson's disease. During an 18-week period, participants were randomly assigned to treatment and control groups and assessed at the outset and every six weeks on a variety of self-reported and performance-based measures. These included mood, social participation, cognition and arm and hand function.
Led by Co-Principal Investigators Dr. Alexander Pantelyat, M.D., and Dr. Serap Bastepe-Gray, M.D., Guitar PD builds on a growing base of research on music therapy for Parkinson's disease. The results, published in the journal Parkinson's Disease, showed that the group guitar lessons produced clinically and statistically significant improvement in participant mood and anxiety. IAM Lab partially funded this research and supported its dissemination activities.
---
Tailored Activity Program (TAP)
The Tailored Activities Program (TAP) extends research on a Johns Hopkins Bayview Nursing program that has trained family members to lead tailored arts activities at home. This project adapts the therapeutic art activity to each individual with dementia in an outpatient day program, Hopkins ElderPlus. 
The study hypothesizes that a tailored arts activity program in an outpatient setting can reduce agitation and aggression in patients with dementia as measured by salivary cortisol and alpha-amylase levels. The project will gather pilot data on the potential biological underpinnings of the TAP intervention through analyses of saliva samples.
TAP research was postponed due to the COVID-19 pandemic.
---
Kennedy Krieger Children's Hospital Sensory CARE Room
This project brings together architects with a variety of medical and health professionals and key stakeholders ranging from neurologists to neuropsychologists, physical therapists, child life experts and parents to build a better hospital room for children who are waking up from a coma. A primary goal is to promote regular sleep/wake cycles by regulating light and sounds and minimizing background noise and other disruptions. This project also explores the role of personalized sensory inputs such as visual projections, scents and sounds in reducing patient agitation.
---
One Book Baltimore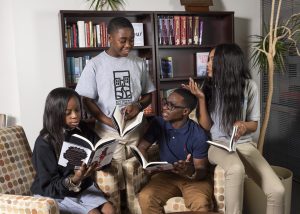 In collaboration with Enoch Pratt Free Library, Baltimore City Public Schools, and T. Rowe Price Foundation, this five-year project provides 12,000 copies of the same book to Baltimore City 7th and 8th graders to read and discuss over a semester. Drawing inspiration from bibliotherapy—the use of books as therapy to support mental health—the One Book project seeks to use reading and storytelling as a way of healing and growth for schoolchildren and their communities. One Book also provides students opportunities to have an open dialogue about their own experiences.
The selected book for 2019, "Long Way Down" by Jason Reynolds, deals with teenage gun violence. IAM Lab assessed the students' personal experiences, attitudes and responses to violence before and after participating in the 2019 program, using surveys and focus groups. We also provided feedback for implementation of the program in the following years based on surveys of librarians and school site leaders.  
The study was published in the Journal of Community Psychology. IAM Lab found that reading "Long Way Down" influenced how middle schoolers think about violence, and students with personal experiences of violence reported greater influence than those without. The study also found that the shared reading experience helped to foster more student conversations about violence with peers and adults.
---
Virtual Reality-Based Art Therapy
Working together with Drexel University's Dr. Girija Kaimal and Dr. Arun Ramakrishnan, this project combined art therapy with virtual reality (VR) to examine participant experiences of two virtual drawing tasks (spontaneous self-expression and rote tracing)—and the impact of an olfactory stimulus (calming fragrance blend)—on mood, stress, self-efficacy, anxiety, creative self-efficacy and wellbeing (satisfaction with life). The results, published in Frontiers in Psychology, showed positive responses to virtual artmaking experiences combined with fragrances.
---
Child-Friendly Environment
To expand and improve the use of art and aesthetics in the service of patients, families and staff, IAM Lab evaluated the site plan of the Johns Hopkins Charlotte R. Bloomberg Children's Center and provided research-based recommendations. Key recommendations included improvements to the natural environment, use of color washes, more cohesive visual themes, more room for common area interaction and improved wayfinding.
---
VetArtSpan
As a Creative Forces Community Connections demonstration site, the Straz Center for Performing Arts in Tampa, Florida designed and implemented a suite of arts programming to increase community-based arts engagement opportunities for military service members and veterans, their families and caregivers, and the general public. 
IAM Lab partnered with Straz artist-in-residence and VetArtSpan Director Fred Johnson and colleague John Parks to conduct an evaluation of the pilot program, which included events, curriculum, multi-week programming and a variety of communications products (videos, podcasts, website). After reviewing qualitative data on the programs, IAM Lab made recommendations for strengthening and evaluating future programming.
---
One Mind – Music and the Brain
Music and the Brain is a groundbreaking think tank envisioned by One Mind President Brandon Staglin and established as part of the organization's Applications for Serious Psychiatric Recovery (ASPIRe) initiative. Co-chaired by Susan Magsamen and Dr. Eric Nestler, M.D, Music and the Brain draws upon numerous studies demonstrating that performing or listening to music can positively affect mental health. 
Music and the Brain expands and complements the National Institutes of Health's Sound Health initiative by consolidating and advancing the evidence related to music's role in the prevention and treatment of severe mental illness. Led by IAM Lab's Research Director Dr. Tasha Golden, the project's first deliverable was a broad international scoping review of the literature regarding uses of music in the treatment of serious mental illness, including schizophrenia, major depressive disorder (MDD), generalized anxiety disorder (GAD), bipolar disorder and post-traumatic stress disorder (PTSD), to inform the development of more rigorous pilot studies of the same. The results and recommendations from the scoping review were published in Frontiers in Psychology.
IAM Lab and One Mind also convened a think tank of thought leaders and experts across nine different disciplines to capture the state of the field and make recommendations to move the field forward. A thematic analysis of these discussions was published in the Community Mental Health Journal, which revealed insights into current barriers to research, differences between disciplines, the need for training, and how to implement music in health practices.
---
Sound Resonance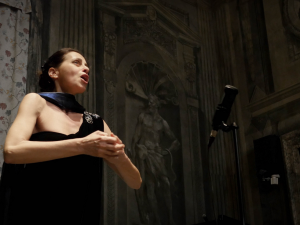 The ultimate goal of this project is to study the effect of music to reduce stress and enhance a state of calm for high-needs communities around the world including refugees and people in conflict areas. This pilot project in Cremona, Italy tests the effects of different types of music on audiences using biosensors to measure heart rate and body temperature as well as self-reporting of emotional response.