Sound Health: Music and the Mind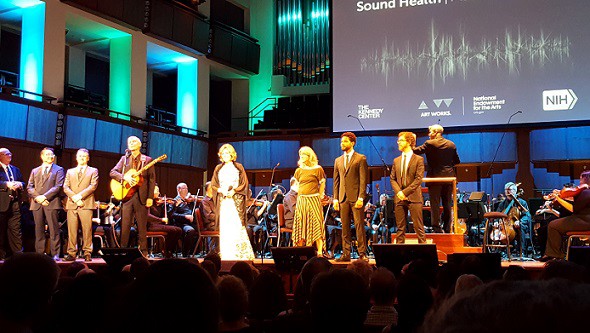 Sound Health: Music and the Mind is a collaboration of the National Institutes of Health and the Kennedy Center designed to elevate the science of music and its relationship to health. On June 2, a lively crowd of musicians, music lovers and music therapists gathered at the Kennedy Center to kick off a weekend of workshops about music, the brain and health with Sound Health in Concert, featuring performances and talks from National Symphony Orchestra, musicians Renée Fleming, Ben Folds and Jussie Smollett and scientists Francis Collins, Charles Limb, Nina Kraus and Daniel Levitin.
You don't have to be an aficionado of classical music to recognize those famous first four notes of Beethoven's Fifth Symphony. Thanks to the earworm hooks and daring storylines of Little Einsteins, even preschoolers can identify the famous composer in four notes.
So why are we so hooked on the Fifth? Maybe Beethoven knew a thing or two about music cognition.
"He's toying with our power of prediction," said Daniel Levitin, the James McGill professor emeritus of psychology and neuroscience at McGill University. "Instead of eye contact, Beethoven uses ear contact."
Beethoven repeats the short-short-short-long pattern more than 200 times in the sweeping piece, varying the tempo and volume to shrink and swell the notes. For the listener, the pattern is alternately familiar and new. You can't help but anticipate the big climaxes. Your brain's pre-frontal cortex is fully engaged in what's known as "expectancy generation."
"The more uncomfortable we are, the more satisfying it will be when we get what we're expecting," said Levitin.
To demonstrate another universal truth about music and the brain, world-renowned soprano and Kennedy Center Artistic Adviser At Large Renée Fleming sang an aria, in Czech, from the opera Rusalka. Afterward, members of the audience were asked to electronically vote for the word that best described their emotions when listening to the song. Overwhelmingly, the group of strangers selected the same emotion, somber, despite undoubtedly varying backgrounds and little fluency in the language.
Why is it that hundreds of people in a room can feel the same thing when listening to an unfamiliar piece of music?
According to Nina Kraus, professor of communication sciences, neurobiology and otolaryngology at Northwestern University, music engages the most ancient parts of our brain — the limbic system. The limbic system is responsible for feelings that are important for things like bonding, sex and enjoying food. It is part of our memory circuitry that bathes our brain with oxytocin and dopamine as we anticipate and then experience something pleasing, like music. Music is hardwired into our brains — archeologists have found musical instruments dating back 35,000 years.
Similarly, artistic creativity is a neurologic product. Musician and music therapy advocate Ben Folds demonstrated the brain's incredible capacity for creativity and improvisation. Folds set out to compose a symphony on the spot, using audience suggestions to generate the chorus (using a line from the performance's printed program), a musical key and a tempo.
After fielding suggestions, Folds pounded on the piano for a minute, working to find a rhythm that matched the awkward chorus. Then, in sequence, he offered the cellos, first violins, second violins and clarinets four bars of repeating rhythms, unique to each instrument. Finally, grabbing a program book and turning to the audience's chosen page, he led the symphony as he sang an original, upbeat song in A minor about the Kennedy Center's expansion project from pages 8–9 of the program. Despite a chorus of "these new spaces are all designed to be flexible," the catchy tune would have found an easy home on one of Folds' albums.
According to Charles Limb, professor of otolaryngology-head and neck surgery at University of California San Francisco, there is a lot to learn from what's happening in the brain of someone like Folds as he is composing a piece of music, and we have the imaging technology to do it. In addition to understanding creativity for creativity's sake, the processes strengthened by music making are the same ones we need for language development, which may have implications for children with autism, patients recovering from a stroke or adults living with Alzheimer's or other diseases that affect speech.
The featured performers and scientists offered a compelling appeal about the importance of music and science to our wellbeing. Fleming spoke of rising interest in the topic because of exciting new scientific findings covered in the popular media and the many applications of music therapy, performance, improvisation and enjoyment for health and wellbeing. Levitin spoke of music's historical role in bringing people together during difficult social and political times, citing the power of music to synchronize the brain waves of multiple listeners and enhance our brain function when playing with others. NIH Director Francis Collins spoke of music's untold potential to treat vexing diseases in a scalable and non-addictive way and NIH's commitment to promoting further discovery. He also surprised and delighted the audience with an acoustic duet of Leonard Cohen's Hallelujah with Fleming — a final coming together of science and music.
Limb closed with his one piece of doctor's advice, "Use your creativity."
After learning the many ways music lights up and powers our brains, those are doctor's orders we can get behind.
Creativity
Johns Hopkins
Music
Sound